10 Things We are Grateful for as We Approach Christmas
Besides accountants, New Economy is made up of a team of deep thinkers and meditators. We are always looking ahead, however, we are also a reflective bunch who loves to take a step back and see our progress. 
During our reflection periods, we tend to run into a common theme: there is no way New Economy would be what it is without the help, support, and guidance of others.
So as we look back over 2022, we want to share with you a few of the things we are thankful for this year: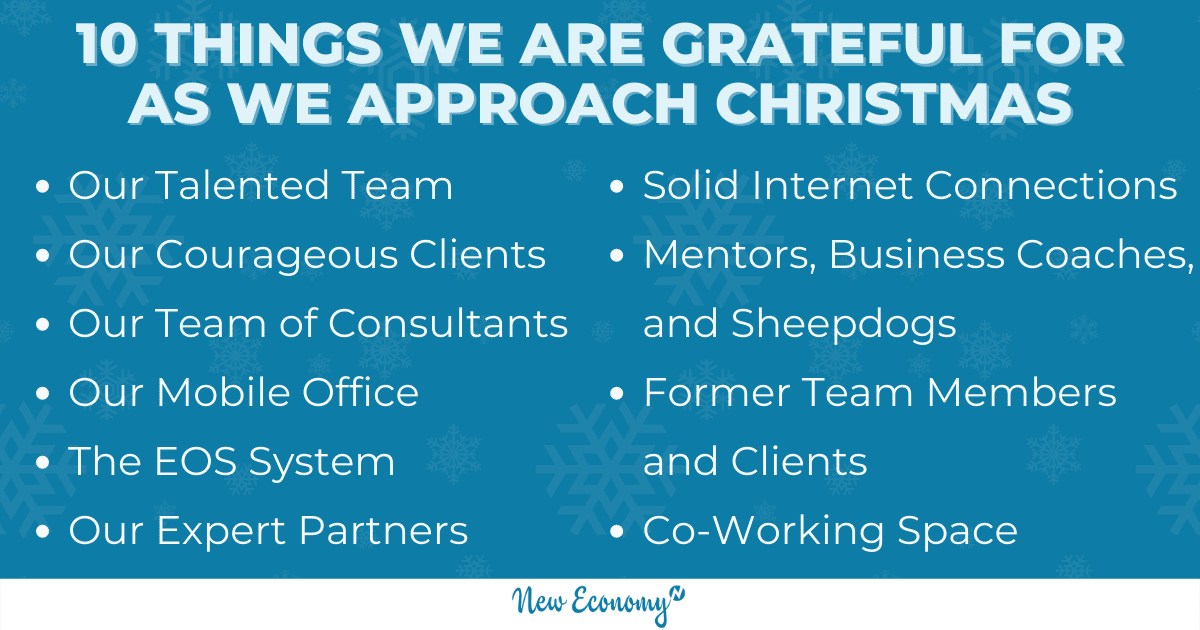 Our 10 Points of Gratitude
1. Our Talented Team
Our very talented, committed, and aligned team and the families that support them keep our firm moving forward. 
YOU are New Economy and we wouldn't be where we are today without you! Gratitude is an understatement when it comes to you.
2. Our Courageous Clients
🚀
Our passionate, risk-taking, courageous clients and the families that support them inspire us every day. We, quite literally, wouldn't be where we are without you. 
You make us better and we are so thankful you give us the chance to serve you!
3. Our Team of Consultants
❤️
Our team of consultants are talented, flexible and hard charging. You drive us to be better. 
You are truly a part of our family, we appreciate you more than you know.
4. Our Mobile Office aka The '86 Camper Van
🤙
VW deserves plenty of thanks for making the '86 camper van that serves as our mobile office. 
We are thankful for the opportunity to work on the go. On mobile office days we get lots of work done and catch plenty of waves in the process. 
5. The EOS System
The EOS system that has helped us to define vision, goals and make it all come alive. This system has done wonders for New Economy and is a staple in our business. 
Gino Wickman, we owe you a coffee.
6. Our Expert Partners
Our expert partners that support our business on the technology, marketing, insurance, banking and sales side. You help us do the tough work in the background so that we can focus on growing our business.
You know who you are, you have been by our side…thank you for all of your hard work.
7. Solid Internet Connections
Solid internet connections that allow our team to deliver amazing service in a fully remote capacity. This helps our business model thrive. 
Thanks Verizon.
8. Mentors, Business Coaches, and Sheepdogs
Mentors, business coaches and sheepdogs that have guided and supported us and kept us on the right path. You all continuously point us in the right direction. 
You know who you are, you have shaped us. Thank you.
9. Former Team Members and Clients
We can't forget our former team members and clients that have played a role in our story. You know who you are, and your significance can't be understated. 
Much love to you.
10. Co-Working Space
Co-working space that has supported us when we needed to get together in the same room. We love our remote-work style but every once in a while, it's good to meet in person. 
District Hall, the coffee, connection and wifi was amazing!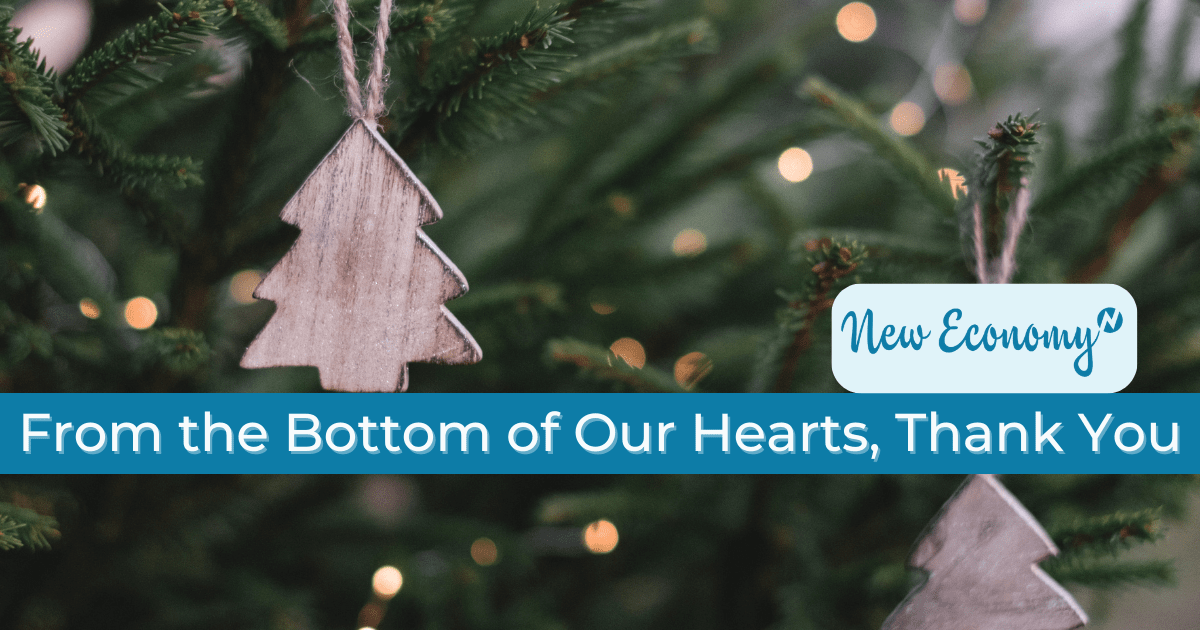 From the Bottom of Our Hearts, Thank You
The phrase "it takes a village to raise a child" originates from an African proverb and conveys the message that it takes many people ("the village") to provide a safe, healthy environment for children, where children are given the security they need to develop and flourish, and to be able to realize their hopes and dreams.
Well, we agree and we feel that way about growing and building New Economy. As you can see, it takes so many people working together to build a successful business. 
So from the bottom of our hearts, thank you. Thank you to every single person who has played a role in making New Economy what it is today. 
We have plenty to be grateful for this Christmas season, but now we want to bounce back to you and ask, what are you grateful for?
We encourage you to take a few moments and meditate on this question. And please, let us know your answer!
https://neweconomycpa.com/wp-content/uploads/2022/12/photo-1482517967863-00e15c9b44be.webp
601
900
Jeff Allain
https://neweconomycpa.com/wp-content/uploads/2021/01/new-economy-logo_withpadding.png
Jeff Allain
2022-12-19 17:54:50
2023-02-15 11:53:59
10 Things We are Grateful for as We Approach Christmas