In the life of a startup, there are many twists and turns and the company must take massive maturing steps to evolve and meet every challenge. 
Embr Labs, going from pre revenue in 2015 to millions in revenue today has taken many of those big steps and met the challenges in front of them. 
And for a company to make that journey, the financial system has to grow and mature along with the rest of the company. For Embr Labs, they've partnered with New Economy CPA since 2015 to help them through multiple funding rounds and to become the mature company they are today.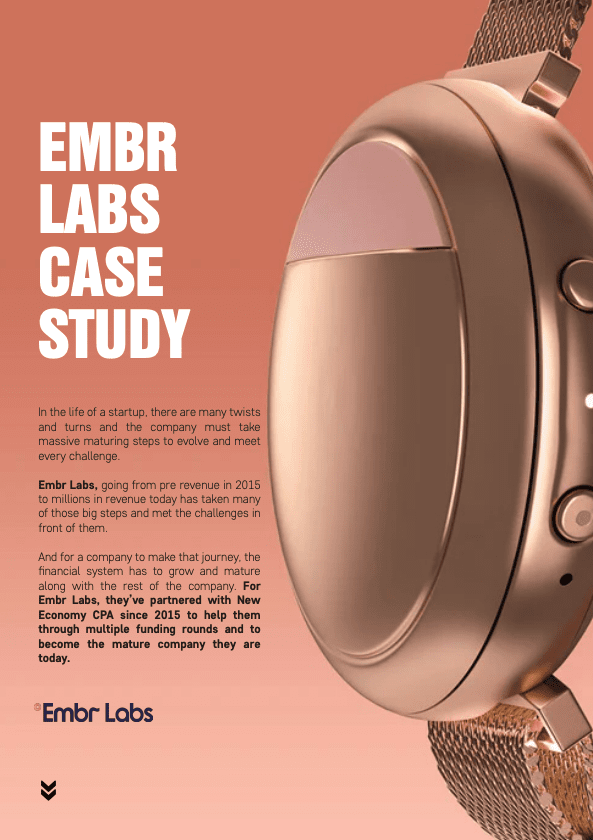 Working with Investors
For any startup raising capital is the place to start. And this is ultimately a financial question. Before Embr Labs had raised any money, New Economy was by their side as a helping hand. 
Building a Financial Model
Sam Shames, Co Founder and COO at Embr, put it this way: "They helped us build a financial model. We were engineers, so they really took the time early on to learn how to think about our metrics."
An Art and Science
Liz the CEO at Embr Labs said the experience New Economy brought through all rounds of financing was helpful:
"When you're raising capital, one of the most important things is that you can show a financial model that is taking your strategic assumptions and translating them into numbers. And that's really an art and a science. I think that's where New Economy really added a lot of value."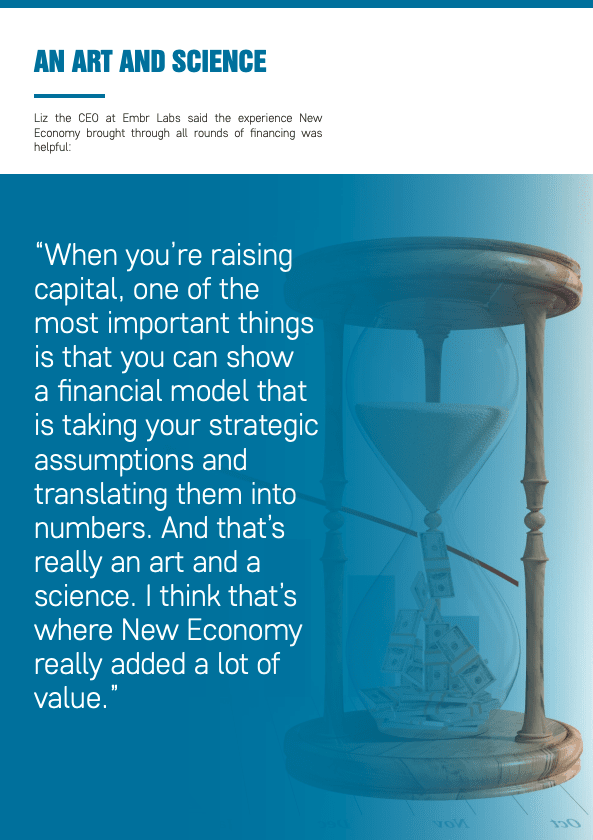 An Extended Part of the Team
New Economy has truly become an extended part of the Embr team, as they've been alongside them during growth. And this is helpful for a busy startup that is needing to continuously monitor results and check in on their progress.
'The Models Look Strong'
"I think a lot of startups don't appreciate the fact that if you don't have a good finance and accounting team, things could really fall apart with investors, Sam said. "We are consistently told that our models look strong, our books are in order. These are the things that normally investors will look at and we've never had an issue."
Confident in the Numbers
"New Economy can ramp up the monthly close process to match the complexity of the business," Sam said. "And today they're handling revenue recognition from multiple channels, managing deferred revenue prepayments, all that. And we're able to close our books on time and feel confident in the numbers."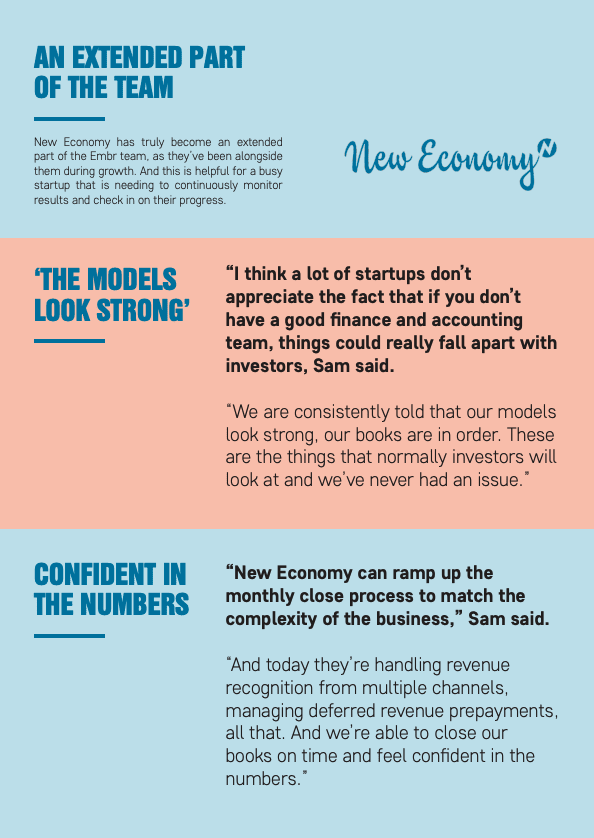 Staying Focused on What's Ahead
Ultimately the goal of your financial partner is to work in the background. They are there working for you, but ultimately, you're focused on what you need to focus on. 
With Embr Labs and New Economy, the partnership works out beautifully like this, as New Economy is always there as Embr Labs continues growing. 
"New Economy has been able to respond to us as our needs have changed," Liz said of their partnership. "And as a CEO, the last thing I want to think about is our accounting and finance capabilities. And I can tell you that with New Economy,  we see them as an extended part of our team. And we rarely have to think about challenges in those areas. And that allows us to sleep at night and focus on the business."
Need a Financial Partner that Can Grow With You?
New Economy CPA helps entrepreneurs gain control of their finances to make smart decisions to build and grow their businesses.. If you'd like to work with us, schedule an appointment and learn more about how we serve entrepreneurs.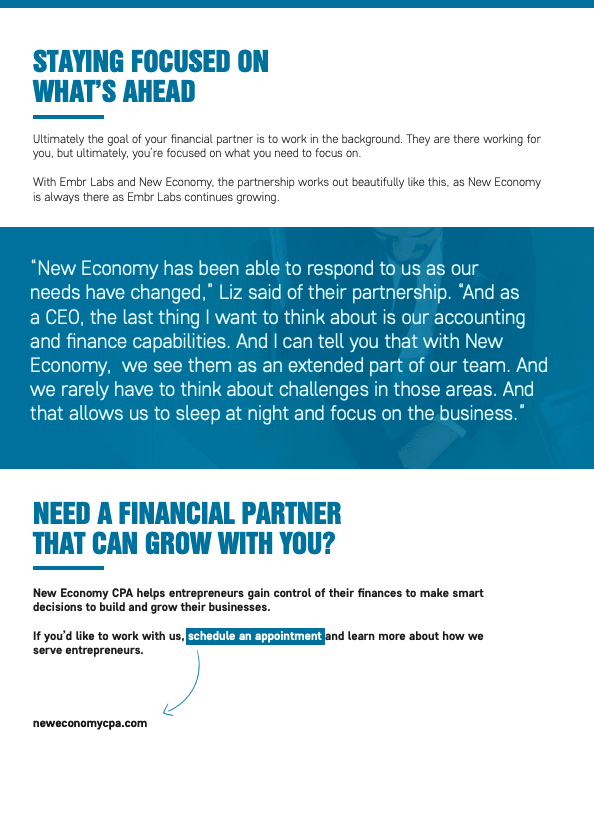 https://neweconomycpa.com/wp-content/uploads/2023/02/qtq80-Ku5Cp7.jpeg
836
1254
Jeff Allain
https://neweconomycpa.com/wp-content/uploads/2021/01/new-economy-logo_withpadding.png
Jeff Allain
2023-02-15 11:57:38
2023-02-15 12:41:14
Case Study: Embr Labs