Top Ways to Prepare for a Recession
Talks of a recession are growing as the economy continues to feel the negative effects of the Corona Virus and the war in Ukraine. 
Both have led to lingering supply chain issues, inflation reaching record highs, capital markets tightening up, and talent shortages across nearly every industry. 
For small business owners, a looming recession can be frightening. The last recession, which began in 2007 and lasted through 2010, forced nearly 1.8 million small businesses to go under. 
Now, business owners are intimidated and again struggling to keep up and adapt to a market that is trending downwards. 
However, there's no need to fear, there is still time to prepare and strengthen your business for a potential recession. Here are some of the top ways to do it: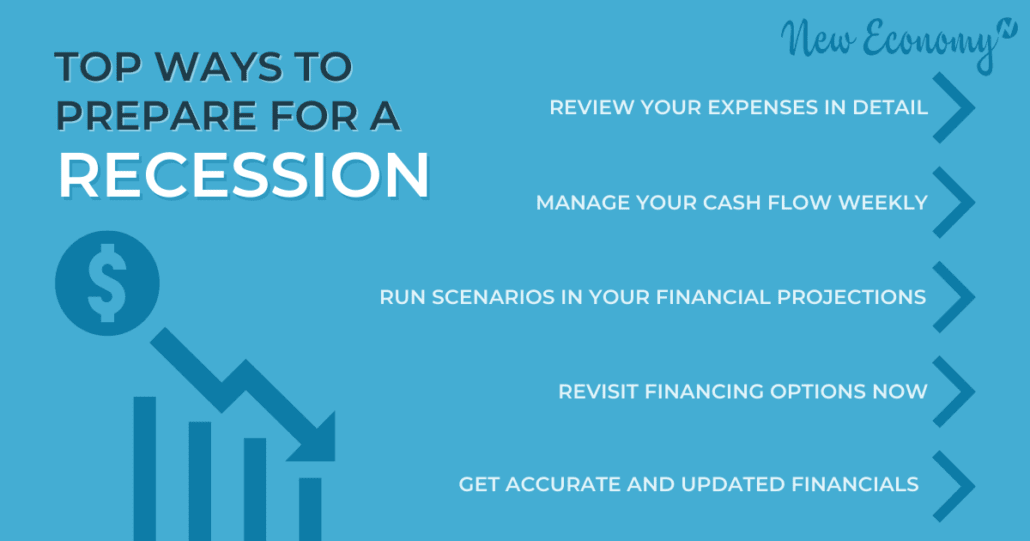 Review Your Expenses in Detail
As you prepare to fight the storm of a recession, the first place to look is your expenses. You've likely already sifted through your expenses and cut back in places where you were overspending or spending unnecessarily, but now it is time to go back to the drawing board. 
Instead of starting with all of the expenses you can cut, start by defining your necessary expenses. 
Rent

Utilities

Inventory 

Insurance

Employee salaries

Etc. 
From there, crosscheck these necessities with your current spending habits. What expenses don't fit into these categories? 
This will give you an idea of what expenses you can do without when the time comes to save money. 
Manage Your Cash Flow Weekly
We've said it before, and we promise to say it again, cash flow is the lifeblood of your business. It's a strong indicator of financial health and without a positive cash flow your business won't survive a recession. 
You can build your cash flow by: 
Tracking related metrics and utilizing forecasts to produce better outcomes.

Keeping a close watch on your accounts receivable by collecting payments on time and knowing what you are owed.

Updating vendor and partner contracts to ensure you are not overpaying. 

Running a pricing analysis to ensure you are still charging the right prices. 
As you start implementing these strategies, remember to wrap your arms around your cash flow and manage it weekly. 
New Economy's FREE Cash Flow Projection Tool can help you do just that. It was built to help you predict your cash flow and make smart decisions about spending and saving. With our tool, you'll be able to see all of the inflows and outflows that affect your bottom line over time so that you can plan ahead with confidence. 
Run Scenarios in Your Financial Projections
Your financial projections can determine how well your business copes with the effects of a recession. They'll use previous data to help you indicate where you may see problems down the road. 
As you prepare for a recession, you should create financial projections for what would happen if you cut expenses, saw changes in revenue, increase or decrease your prices, and so forth. This will give you better visibility as you navigate the downturn and help you make the right decisions to keep your business afloat. 
Revisit Financing Options Now
Before it's too late, explore your financing options. Now is a great time to speak with lenders or investors, apply for grants, or even start a crowdfunding campaign. 
However, be clear with how much additional cash you need to raise before you dive in. You can use the free cash flow tool here, as well, to gain greater visibility and determine how much you may need to survive a recession. 
Get Accurate and Updated Financials
Knowing where your business stands at all times is key to preparing for and withstanding a recession. 
There are multiple tools you can use to get accurate and updated financials. The top four tools include: 
Cash Flow Tool

As we mentioned, this helps measure the inflows and outflows that affect your bottom line.

Weekly Scorecard

This includes the KPIs you need to reach your business goals.
 Financial Projections

These are predictive analyses you can use to help you make informed decisions. 

Month-End Close

This is a monthly recap of your financial statements. By following the steps needed to complete your

month-end close

, you'll also be staying on top of your finances month-to-month, which is essential for preparing for a recession. 
New Economy Can Help You Prepare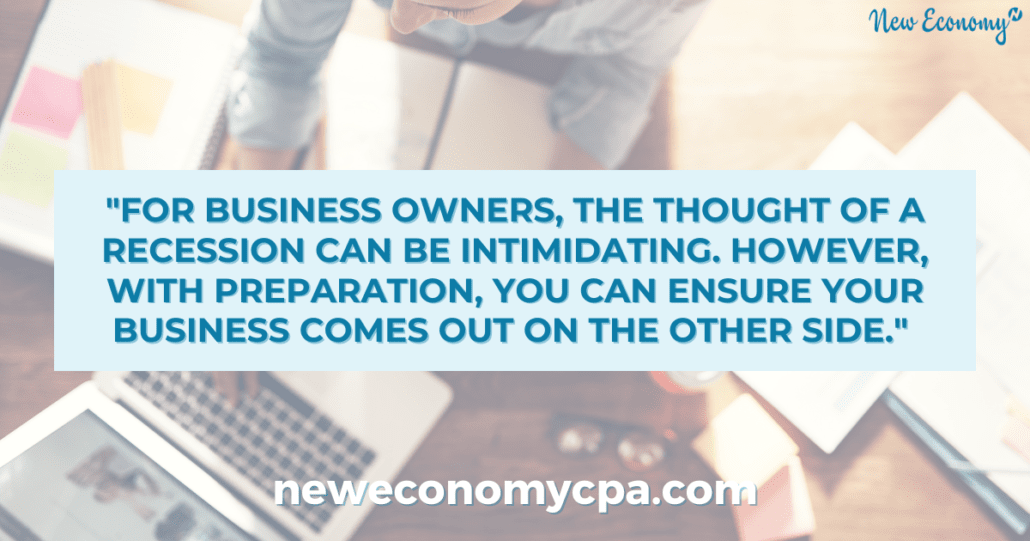 For business owners, the thought of a recession can be intimidating. However, with preparation, you can ensure your business comes out on the other side. 
We've covered the importance of reviewing your expenses in detail, managing your cash flow weekly, running scenarios in your financial projections, revisiting financing options, and getting accurate and updated financials, but if you're still struggling to prepare for a recession, turn to New Economy for guidance!
We help entrepreneurs gain control of their finances to make smart decisions to build and grow their business – and that includes before, during, and after a recession. Contact us today to learn more about how we can help!
https://neweconomycpa.com/wp-content/uploads/2022/06/qtq80-9SWe4W.jpeg
836
1254
Jeff Allain
https://neweconomycpa.com/wp-content/uploads/2021/01/new-economy-logo_withpadding.png
Jeff Allain
2022-06-29 12:41:58
2023-02-15 11:54:44
Top Ways to Prepare for a Recession