What to Ask When Interviewing an Outsourced Firm (and How New Economy Answers)
As your business grows, so will your financial needs. You'll start to require: 
More time for financial management, 

A stronger understanding of your financial information,

Better tools and resources to ensure timely and accurate numbers.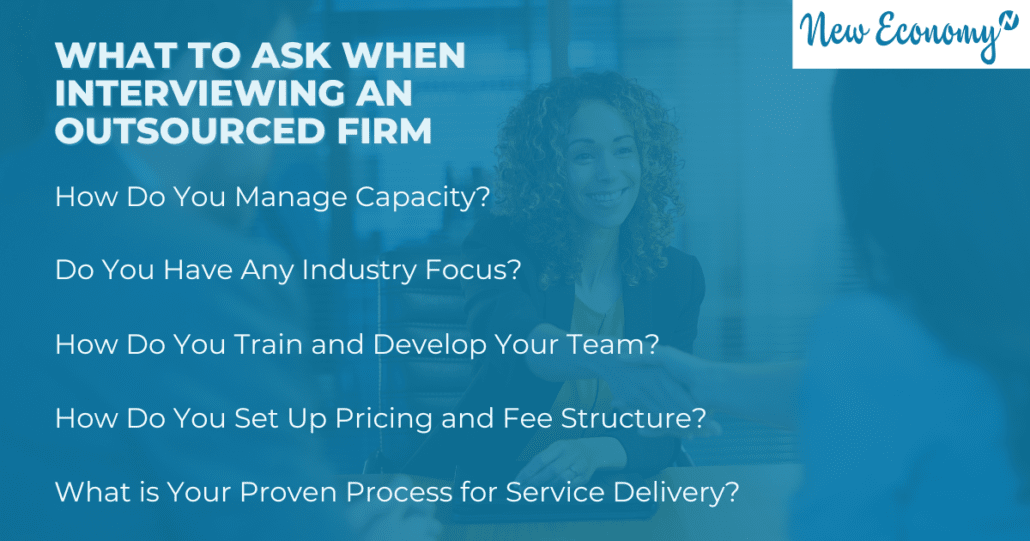 At this point, many businesses choose to outsource their accounting, which solves and helps avoid the problems listed above. 
However, like hiring a new employee, outsourcing your accounting requires an interview process. You have to make sure you select the right firms – one that will grow with you and wants to see you succeed. 
The rest of the article provides several questions you should ask while interviewing an outsourced firm and how we, New Economy, answer them. 
How Do You Manage Capacity?
Capacity management should be of utmost importance when choosing where to outsource your accounting. You want to be confident that your finances are a priority and that none of the work you are outsourcing is slipping through the cracks.
At New Economy, we take three extra steps to manage our capacity: 
We have a second team member trained and take a team approach in case of turnover.

This ensures that no matter what happens on our end, we are still able to prioritize your finances. 

We leverage a schedule for time-blocking.

Time-blocking

allows us to dedicate time to your project so we accomplish what needs to be done. 

We have an operations team in place.

Our operations team keeps everything running smoothly, helps to eliminate bottlenecks, and is always looking for ways to improve workflow. 
How Do You Train and Develop Your Team?
In the same way you care about building a strong team for your business, you should also care about the team you outsource your accounting to. 
They should be well trained, experienced in their field, and always working towards growing as professionals. 
Training and developing our team is key to best serving our clients. New Economy team members each get 40 hours of training upon hire. From there, we create quarterly development rocks to help each employee work towards their goals. 
Do You Have Any Industry Focus?
Selecting an accounting firm that is experienced in your industry is a key factor in making your final decision. 
An industry-focused accountant will be able to help you track the right metrics, make strategic decisions, and plan for long-term growth. They'll know what works in your industry and what doesn't so you can avoid the what-ifs and start improving financially as a business. 
At New Economy, we work with investor-backed startups and growing small businesses. Most of those are technology and service-based companies that range from pre-revenue to $50 million in revenue. 
If your business falls into any of those categories, New Economy may be a good choice as your outsourced accounting firm, simply because we have a strong understanding of your industry.
How Do You Set Up Pricing and Fee Structure?
Pricing is rightfully a major concern for businesses looking to outsource their accounting. Typically, accounting firms operate on one of two styles of pricing: 
Hourly billing works as it sounds – you are charged by the hour for services.
Fixed fee sets a monthly retainer. The focus is more on the value of the service being provided, within the agreed time
You should select a firm whose pricing and fee structure best suit your needs.
New Economy has fixed fees as we are focused on the value delivered as opposed to the billable hour. Additionally, we revisit fees quarterly to make sure everyone is still benefiting economically. 
What is Your Proven Process for Service Delivery?
Be sure to ask the firm you are interviewing what their process is like for delivering services. You deserve a clear understanding of how things work from start to finish. 
This will give you insight into their priorities and workflow management, as well as set clear expectations for the relationship. 
At New Economy, our process for service delivery is broken into three primary areas. 
The first is taking the time to learn about your business and its needs through several sales Zoom calls leading up to a signed contract. 
The second is an onboarding Zoom call to set timelines and expectations for our work. 
Finally, we will set weekly and monthly calendar check-ins to measure against expectations. 
Our goal is to help you get the most out of your business, and by following this process, we will be able to fully understand you and your business, create a customized plan to help you reach your goals, and provide deliverables with progress updates and more. 
Interested in Outsourcing to New Economy?
If after reading you feel New Economy might be a good fit, schedule a time to meet with Jeff, our founder today! 
We help entrepreneurs gain control of their finances and make smart decisions and would love to learn more about you, your company's story, and how we can add value to your situation! 
https://neweconomycpa.com/wp-content/uploads/2022/08/brooke-cagle-JBwcenOuRCg-unsplash.jpg
1280
1920
Jeff Allain
https://neweconomycpa.com/wp-content/uploads/2021/01/new-economy-logo_withpadding.png
Jeff Allain
2022-08-01 12:00:09
2023-02-15 11:54:36
What to Ask When Interviewing an Outsourced Firm (and How New Economy Answers)