How to Leverage Your Accounting Team to Reach Your 2023 Goals
As an entrepreneur, you understand the importance of accounting and its impact on your business. It plays just as essential a role as operations, sales, and marketing, so it's imperative you build an accounting team that will carry out tasks with your business goals in mind.
A strong accounting department  is comprised of people, systems and processes, and technology. The department comes together to provide accurate data that work together to reach your goals. 
As 2023 gets underway, it's the perfect opportunity to work through how you can leverage your accounting team to get your business to where you hope it will be at year-end. 
Build the Right Accounting Team
We touched on the basics of a strong accounting team, 
Great people

Great systems and processes

Great technology 
But let's go into a bit more detail. 
Create an Accounting Structure that Works for Your Needs and Size
Understanding your accounting needs is the first step in building a strong accounting team. A good place to start is an organizational chart. 
Who is in charge of what and how much work can they realistically be responsible for? 

What areas can be outsourced? What needs to stay in-house? 
Map it out to get a good idea of your business's needs. 
Find Team Members that Align with Your Value System
It takes the right people to build the right team. Your values are an important piece to your business and anyone joining your team should agree with and align with those values. 
Before bringing them on, ask yourself if you can see them demonstrating your values through their work and working well alongside your current team.
At New Economy, we function as Partners to you and your business so are looking for a high degree of alignment.
Find Team Members that can Perform the Core Functions Needed
To no surprise, a knowledgeable team member is an essential part of an accounting team. 
Go back to your organizational chart and make sure you're bringing on team members who know how to perform the core functions needed and are willing to learn any areas they may not be as well-versed. 
You want to make sure your team members are challenged and working in their area of unique ability. Further, you want to make sure that you are not overpaying and compensating for what you need provided by the person that is the right skill level fit.
Again, it's all about the people and the right fit.
Leverage Technology that is Effective
Consider technology as an integral part of your accounting team. It helps complete tasks you'd otherwise be managing manually, so selecting the right tech stack is essential. 
Wherever possible, aim for automation and simplification.
We try to build processes that are scalable, repeatable and support the production of timely and accurate data.
Your Accounting Team Will Produce Key Insights
Once the structure, people, processes, and technology are established, it's time to let your accounting team start creating key insights that will help you run your business. 
Your accounting team should develop a system to produce: 
Weekly financial scorecards 

These measure what's on track and what's off track on a weekly basis.

Month-end financials

These measure what's on track and what's off track on a monthly basis.

Weekly cash flow projections

These will help you spot gaps and trends.

Monthly Financial Projections

These give you an outlook for the month and allow you to forecast results.
Check out our blog "Top 4 Financial Tools for Success" for more information about the key insights your accounting team will need to produce.
Two Factors to Consider
As your accounting team starts producing these key insights and other important information, you need to keep in mind two factors: 
Timeliness of the information

Accuracy of the information 
Timeliness is essential for making real-time decisions and ensuring your business is always heading in the right direction. 
Accuracy leads to reliability. You have to be able to trust your information is correct so that you can make informed decisions.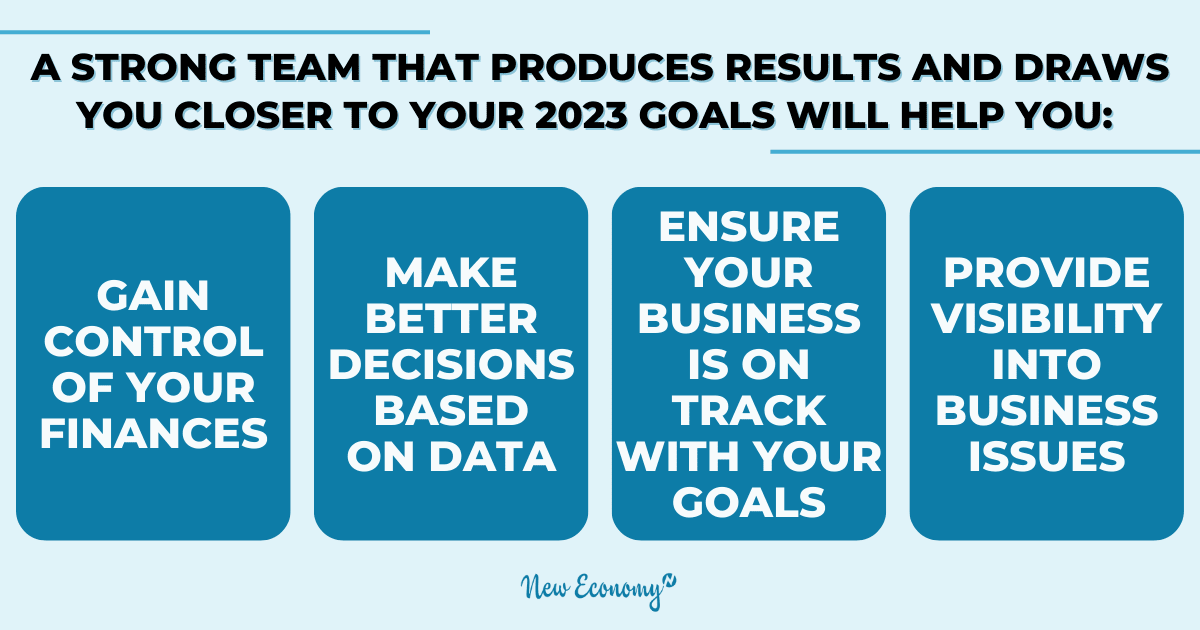 Bringing it all Together
Following the strategy above will ensure you are building a strong team that produces results and draws you closer to your 2023 goals. 
A team built with this framework in mind will help you: 
Gain control of your finances

There will be no more guesswork. Everything you need to know about your business's finances will be at your fingertips so you can make the right moves going forward. 

Make better decisions based on data 

They'll produce timely, accurate data which is key to helping you make decisions that align with your business goals. 

Ensure your business is on track with your goals

You have to measure your progress toward your goals weekly, monthly, and quarterly to ensure you're on the right track. This gives you ample opportunity to strategize a new plan of action if you've fallen off course. 

Provide visibility into business issues 

As your business grows, issues can arise and create major problems for your business financially. Your team will be able to catch these issues with plenty of time to make adjustments.
While an in-house accounting team may be the right move for some businesses, outsourcing is also an invaluable option. Working with an outsourced accounting team like New Economy gives you all of the above benefits at a fraction of the cost.
In fact, our mission is to help entrepreneurs gain control of their finances to make smart decisions to build and grow their business.Contact us today if you are interested in learning more about how New Economy can serve as your accounting team!
https://neweconomycpa.com/wp-content/uploads/2023/01/photo-1600880292203-757bb62b4baf.webp
600
900
Jeff Allain
https://neweconomycpa.com/wp-content/uploads/2021/01/new-economy-logo_withpadding.png
Jeff Allain
2023-01-24 11:41:59
2023-01-24 11:42:38
How to Leverage Your Accounting Team to Reach Your 2023 Goals