Outsourced Controller Services: Everything Your Business Needs to Know
Have you ever felt frustrated, overwhelmed, and out of control with the financial state of your business? 
If so, you're not alone. In fact, 66% of business owners say they are in the same boat, constantly scrambling to get the numbers right and things done on time. 
Let's face it. You need help managing your finances, but don't worry, we've got you covered.  
At New Economy, we believe the outsourced controller plays a key role in your financial team and serves a valuable role in growing your business.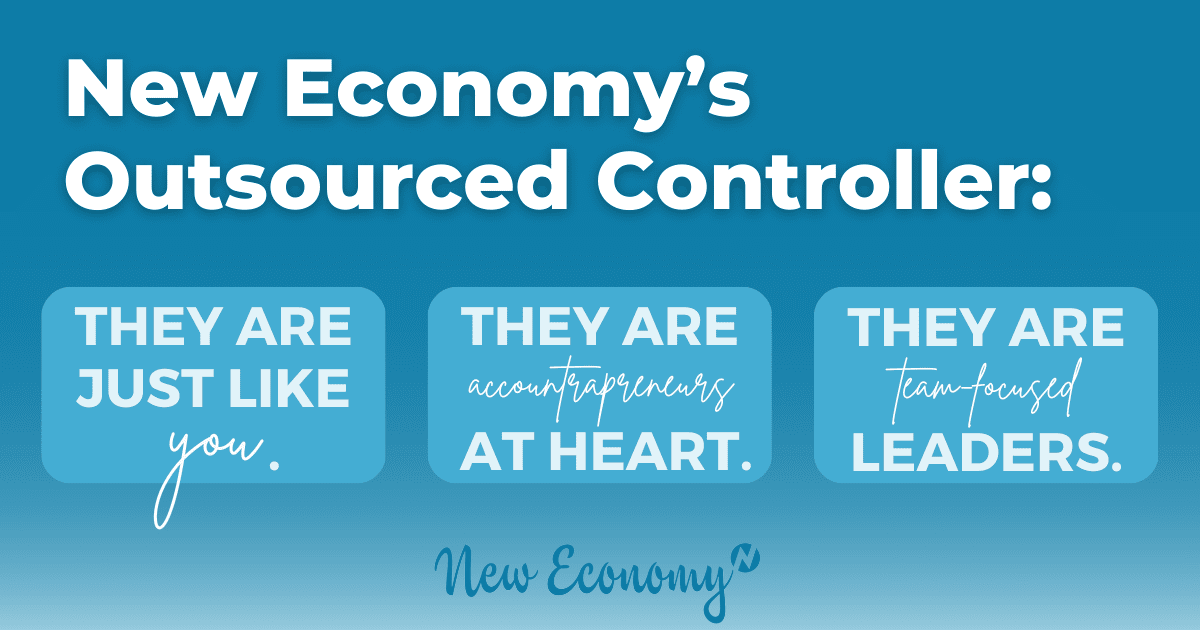 Let's Define New Economy's Outsourced Controller:
They are just like you.
Our outsourced controllers have passion and guts and are willing to put everything on the line. With their unique financial skills, they want to support people that believe they are changing the world and help them in that mission. That person is YOU! Our controllers are for you and your business!
They are accountrapreneurs at heart.
They will provide financial information that directly impacts your goals. They will manage and report on the accounting systems, financial statements, and budgets to bring efficiency and visibility to your operations. Their work is a vital foundation for allowing you to learn about your business and help it grow. 
They are team-focused leaders.
They are leaders operating in a team environment providing numerous avenues for collaboration, problem-solving, and breaking through barriers. You will work with and tap into the knowledge of your outsourced controller on a regular basis. 
Why Do You Need an Outsourced Controller?
Outsourced controllers add incredible value to finance teams. Here are some of the reasons you may need an outsourced controller: 
You are looking to make smart, data-driven decisions.

You are looking to connect the financials to the business objectives and goals.

You are looking to have timely and accurate financial reports to make smart decisions.

You are looking to increase the depth of your accounting department with an expert.

You are tired and frustrated with the current accounting team's output.
When Do You Need an Outsourced Controller?
If you found yourself checking the boxes on "why" you need an outsourced controller, your next question is likely, "Is now the right time to bring one onto our team?" 
Here are the top five signs you need an outsourced controller: 
Your business is growing.

You are not getting timely and accurate financial reports to make business decisions.

You are overpaying your current full-time controller to do administrative tasks, HR, and other non-accounting functions.

Your systems and processes need to evolve to support the business.

Your current accounting team is not helping you achieve your goals.
Check out our article, "Top 5 Reasons to Engage a Part Tim Controller or Accountant" for more information on these points! 
What is the Cost of an Outsourced Controller? 
Another valid question refers to the cost of outsourced controllers. Let's crunch a few numbers. 
First, run a salary benchmark for your location for a controller's salary. You'll find that this number typically lands between $90K-$125K for startups and small businesses. 
Next, add on 20% or more to cover benefits like payroll taxes, 401k contributions, and health insurance. 
Then, add time to manage, train, and develop this person; trust us, this is a lot! 
But then, reduce that overall cost by 20-30% by having the team member focus on very specific matters that require their expertise. For example, they focus solely on financial statements but do not spend any time on administrative tasks. 
Wondering If an Outsourced Controller Could Fit into Your Business? 
If all of this sounds great, but you're still questioning how it could work for your business, check out the list below. More often than not, if you meet the following criteria, this strategy has a high probability of success:
You leverage technology and are okay with a remote work environment. 

You are an investor-backed startup with at least a year of runway OR a growing small business with revenues between $2-$40 million. 

You run on

EOS

or have a culture that is collaborative, engaged, and values financial input. 

You are looking to build the best possible team to set you up for success. 

You are educated, business astute, and technically competent. 

You have a pleasant, outgoing personality with a positive disposition. 

You are motivated to have accurate financial systems, insights, and visibility. 

You are willing and open to learning. 

You are looking to invest in process and infrastructure. 
So, Why New Economy?
Wondering why New Economy is the best choice for an outsourced controller as opposed to other companies? 
We believe we have three key differentiators: 
A team-based approach

We run on a team-based approach of proven accounting and financial processes that will help you grow your business. 

Technologically advanced

We use the top technology to provide you with the most agile financial reporting and insights. 

Accountrapreneurs

We are accountrapreneurs who understand your business's challenges and speak your language. 
Our team at New Economy was designed to help entrepreneurs gain control of their finances and make smart decisions to build and grow their business. 
Schedule a time to meet with our founder, Jeff, to learn more about how the outsourced controllers at New Economy can help and fit into your business!
https://neweconomycpa.com/wp-content/uploads/2023/02/photo-1590650516494-0c8e4a4dd67e.webp
600
900
Jeff Allain
https://neweconomycpa.com/wp-content/uploads/2021/01/new-economy-logo_withpadding.png
Jeff Allain
2023-02-21 15:23:25
2023-02-27 11:07:26
Outsourced Controller Services: Everything Your Business Needs to Know