Prepare for a Recession with this Cash Flow Projection Template
Unfortunately, a recession is on the horizon and if you want your business to weather the storm, it's time to start preparing. 
At New Economy, we have 5 strategies we suggest focusing on to get through this tough time. Each strategy is important but you'll soon realize that managing your cash lands high on the list. 
We'll explain more below and let you know how you can use our cash flow projection template as a tool for success. 
Use These 5 Strategies to Weather the Storm of a Recession
1. Manage Cash Well
Cash is the lifeblood of every business. This means managing it well is essential for survival. Here's how our team at New Economy suggests you manage your cash:
Plan and Process
Your business needs a solid plan and fool-proof processes to properly manage its cash. You can do this by:
Analyze historical spending

Understand spending needs

Cut, reduce, and extend payments

Identify cash flow gaps

Identify solutions to cash flow gaps
Transformation
The way your business is managing its cash now may not be sustainable through a recession. You'll need to build stronger business processes and intelligence around: 
Cash collection acceleration techniques

Proven effective collection policies 

Prove effective credit policies

Proven effective payment policies

Building cash reserves 

Preparedness on meeting obligations before they occur
Ending in Success
Properly managing your cash is an ongoing process, but eventually, you'll earn a feeling of financial security based on your ability to predict cash flow needs. To create this feeling, you'll need to: 
Know when, where, and how your cash flow needs will occur

Know the best resources for meeting cash flow needs (debt, equity, factoring)

Be prepared to meet those needs in advance

Set goals for building cash reserves 

Set goals for paying down debt. 
2. Know Where Your Business Stands – No Sugar Coating
As a business owner, you need to have a strong pulse on your business. This means diving deeper into a few key areas to ensure the needle is moving in the right direction. 
Not to be overlooked, the health of your team and culture play a major role in the success of your business. Team members need to be on board and understand how their work plays a larger role. 
Keep a close eye on your goals as well. Regularly take the time to ask yourself if you are on or off track with your goals and one-year plan. Understand why and what needs to change to get or keep the business on course. 
To no surprise, analyzing financial performance is key to understanding where your business stands. Are you meeting key targets, like: 
Revenue? 

Gross profit?

The budgets for operational costs?
Dig deep to know where you are at and what may need to change. 
3. Turn Up Your Leadership
Companies rise and fall based on leadership. Your role as a business owner is to serve as a leader for your team. 
Here are a few of the ways you can become a stronger leader: 
Give clear direction on the vision

Create openings and opportunities for the team to connect. Be compelling and bang the drum. 

Provide the necessary tools for the team

They'll need training, technology, and most importantly time and attention to help the succeed.

Act with the greater good in mind

One of your roles is to focus on long-term outcomes. Help your team understand how their work now impacts the greater good of the company. 

Keep expectations clear and communicate well.

We can't stress this enough – communication is key! 
4. Run Scenarios 
There are plenty of different directions your business could turn in a recession. To best prepare, you need to have the ability to do "what ifs". Scenario planning, aka financial modeling, offers you the ability to get a glimpse of potential outcomes for your business. 
With good financial modeling, you'll get future visibility by month to make decisions. 
Our advice: Play with the assumptions to determine the outcome. For instance, lower your revenue by 10% to see the implications on cash flow and profitability. Perhaps then, you reduce your operating expenses to achieve the same profit margin. 
Again, understanding where your business could be headed will help you make quicker, more educated decisions. 
5. Find Opportunities 
Just because a recession is typically a negative experience, it doesn't mean there aren't hidden opportunities. 
For example, layoffs are abundant, but this also means there is top talent being let go. Look for that talent and add them to your team. 
You may also run into a business that is not adequately prepared or is struggling. This may provide an opportunity for a merger or acquisition. Keep your eyes and ears open. 
Other struggling businesses may not be serving their customers well, providing you an opportunity to acquire new customers.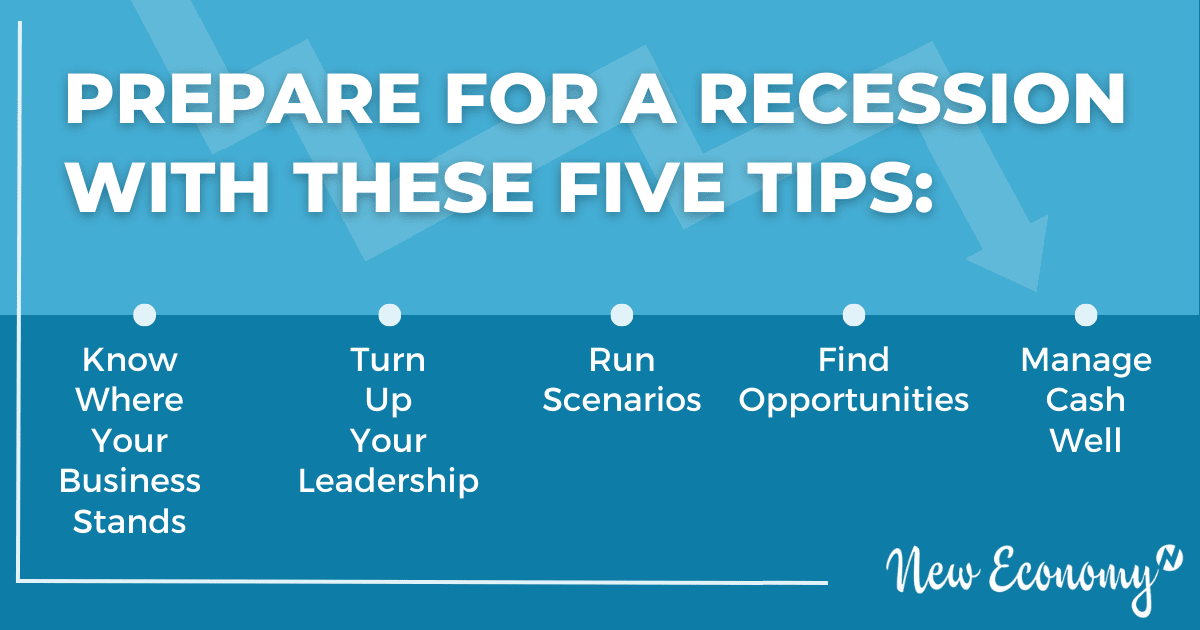 As a reminder, our team at New Economy helps entrepreneurs gain control of their finances to make smart decisions to build and grow their businesses. 
One of our favorite tools to use to do this is our cash flow projection tool. It will help you understand how to plan your budget in advance and see how much money will be coming in and out over time. You can grab it for free here.
If you have any questions or would like assistance in preparing your business for a recession, schedule a call with our Founder, Jeff! He'd love to learn more about your business and explain how New Economy can help!
https://neweconomycpa.com/wp-content/uploads/2023/04/qtq80-maJcz2.jpeg
1440
2014
Jeff Allain
https://neweconomycpa.com/wp-content/uploads/2021/01/new-economy-logo_withpadding.png
Jeff Allain
2023-04-04 10:20:58
2023-04-04 12:01:38
Prepare for a Recession with this Cash Flow Projection Template